ABBY allows Rose to access pleasant memories from earlier in her life.
Rose Meier has been a resident at Covenant Care's Villa Marie for just over a year now. Though she lives with dementia, a special technology is allowing the 80-year-old to tap into her adventurous side and enjoy driving down sunny scenic roads, just like she used to do with her family.

Specially designed for those with dementia, ABBY is a wall-mounted dashboard with touchscreens, sensors and tactile activities familiar to users. When used, these features are designed to trigger memories while promoting a sense of independence and calm in residents. They may choose to drive through the countryside, play a familiar song or even pet a cat.
Marvin Meier, Rose's husband of 56 years, says Rose is a devoted wife, mother and grandmother and loves the outdoors. Until she moved into care, the couple lived on a farm, where Rose kept horses and shared her love of animals with her daughter and granddaughter. While Rose's condition can make it difficult for her to recall these times of her life, Marvin says he and his family often see her using ABBY when they visit.
"A lot of times we'll go to visit and Rose will be sitting at the machine," says Marvin. "Rose likes to drive. She gets on the steering wheel and pushes buttons and flips switches. She actually tries to stay on the road — she knows what she's doing."
Developed by Ambient Activity, ABBY gives residents something familiar and easy to do, reinforcing a sense of purpose and reducing boredom. Research from the University of Toronto also shows that ABBY significantly improves quality of life and reduces behaviours such as wandering, paranoia, aggressions and anxiety, and staff at Villa Marie are noticing positive differences.

"It's keeping them engaged and interested because of all of the different features," says Kathleen O'Connor, recreation therapist at Villa Marie. "They could be driving and decide to turn on the radio or TV dial, or there are different pictures to keep them engaged in something meaningful for longer periods of time."
Janine Judd, a recreation therapist with Alberta Health Services' allied health supportive living team, visits Villa Marie twice per week to work with residents who don't participate in the site's regular recreation programs. She assesses residents individually and develops personalized treatment plans that meet their unique needs, working hand in hand with Villa Marie's on-site recreation therapy team.
After the COVID-19 pandemic began, Kathleen and Janine noticed the impacts on residents' well-being.

"We were noticing that after COVID hit and family visits were limited, residents were showing more behaviours, and we did some research on how to mitigate that," Janine says.

After learning about the benefits of ABBY, Kathleen and Janine applied for a grant through the Covenant Foundation to cover the costs of the technology. Their application was a success, and Villa Marie has had the $8,000 device since October 2021.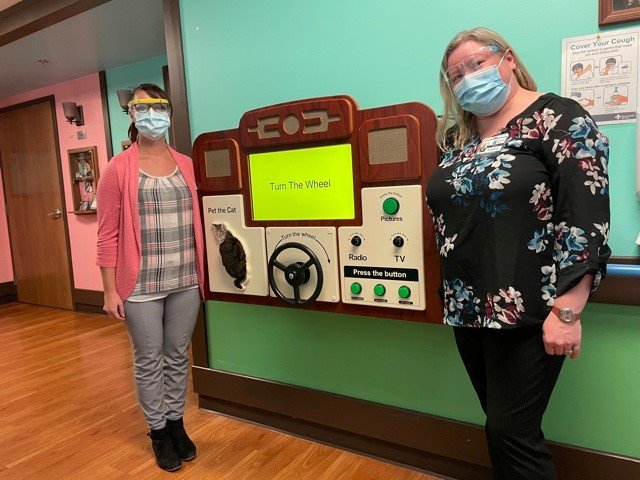 Recreation therapists Janine Judd (left) and Kathleen O'Connor (right) advocated for ABBY technology at Villa Marie after noticing the impacts of COVID-19 on residents.
Since ABBY was introduced at Villa Marie, Kathleen and Janine say they have seen fewer behaviours such as wandering and agitation in residents with dementia. Residents spend anywhere from minutes to hours with ABBY, and some residents even use the technology during family visits.

"Sometimes family members don't know how to interact with loved ones in the late stages of dementia, so ABBY can help bring familiarity and quality back to those conversations," Janine says. "It increases quality of life by giving them something they love to do at their ability level and which is familiar. It's something they can be successful at and look forward to."
The use of ABBY at Villa Marie has been so successful that Janine and Kathleen hope to further personalize the experience for residents using special electronic bracelets. When brought close to the machine, the bracelets would activate a personalized set of music, videos and photos for residents to interact with.
To provide support for specialized equipment and technology such as ABBY, please visit our online donation page.